The North-eastern state of Nagaland is one of the most ecologically rich and important regions in India; it falls in the Indo-Malayan global biodiversity hotspot and is home to many endangered and endemic species. Due to decades of habitat degradation, fragmentation, and hunting pressures, the biodiversity here has seen a steady decline. In fact, in Tsuruhu village, the village council noticed that one of two resident troops of India's only ape, the hoolock gibbon had disappeared completely. This triggered them to protect the last remaining troop in their forest.
Foundation for Ecological Security(FES) works closely with communities in this region, helping them enhance their knowledge and understanding of the biodiversity in their forests while working towards its protection. All the decisions on conservation interventions are taken by the communities themselves, reflecting a keen interest and willingness to take action for conservation. We caught up with Tapas Das, Programme Manager at FES to understand this model of community-led conservation.
The Habitats Trust (THT) team:Tapas, when we last spoke, you mentioned that the rich ecological and social history of Nagaland got you interested in working for conservation in this region. Can you tell us a little more about that?
Tapas Das: I had previously worked with FES in Rajasthan in the Aravallis and from there, I moved to Nagaland in 2015. This region is very rich in biodiversity – it sits in a biodiversity hotspot, and also has very unique traditions and cultures. I had the chance to interact with tribes in each district, from the elderly to young children, and even stay with the families. People have unique ways of conducting daily activities, everything from hunting to cooking food or making wine, celebrating festivals, and praying to ancestors before going for cultivation. Over time, I learned a lot about the people here, and have tried to work on documenting local knowledge on the biodiversity of Nagaland while learning about local ideas of nature and conservation.
THT Team:You mentioned that you work extensively on documenting local knowledge, what has been your experience?
Tapas: Initially, when I started working here, we were working on identifying various species as this is an understudied area. I immediately noticed various unique species of flora and fauna that I found hard to identify and catalogue. Sometimes I would walkabout through the forests and list down hundreds of species, but I did not know much about them, so I decided to ask the local villagers about the plants and animals found here. I found that some communities had deep knowledge about their flora and fauna, for example, the medicinal properties associated with hundreds of plants, to movement patterns of various wildlife species.
Our effort has always been to promote this traditional knowledge which is sadly disappearing, and to encourage communities to document it in writing. Locals here also feel many wildlife species have disappeared from the lower planes and moved up to the higher altitudes because of higher temperatures in the lower regions, but this is not documented.
We found that while the elderly are very knowledgeable and keen towards this initiative, worryingly, there is a lack of interest from younger people. Previously, there was a flourishing culture of medicinal plants being grown in people's homes. Now there are increasing number of people who believe indigenous medicine won't help them. This is a troublesome trend but we do try to encourage them to preserve this knowledge for future generations.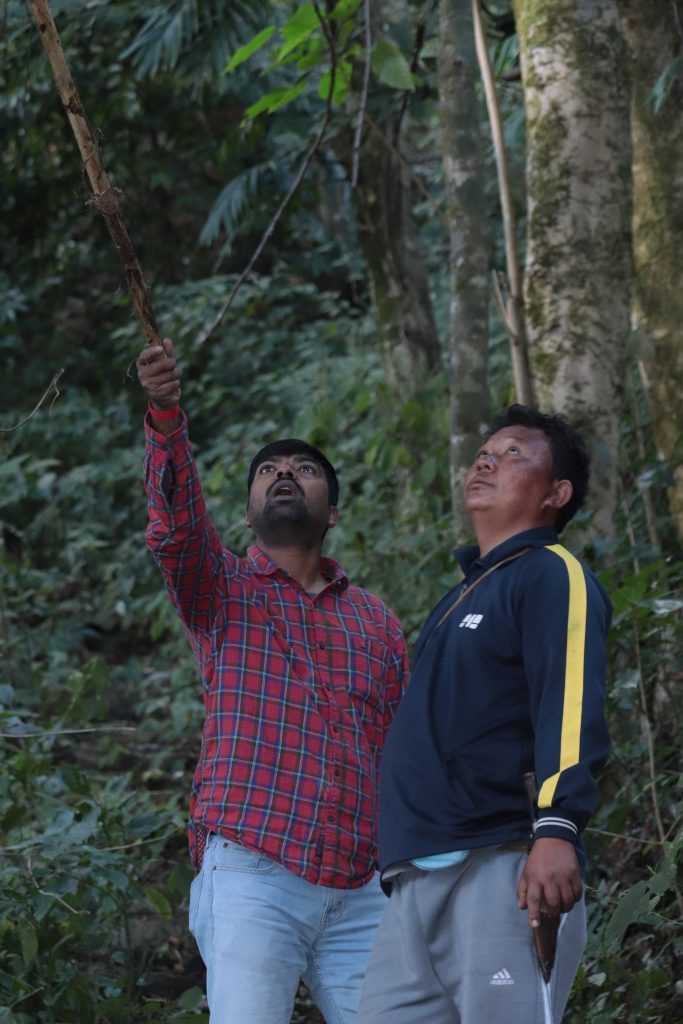 Tapas during a visit to Community Conserved Areas in District Zunheboto, Nagaland
THT Team:In various North-eastern states, hunting of wild animals is a traditional practise. In your experience working in the region, what are the attitudes of the local tribes in Nagaland towards hunting?
Tapas: While hunting is practised here, there are various traditions and rituals around it that I have observed. For example, they never hunt pregnant animals, fish are not consumed during the breeding season and they only go for fishing during a six-month period. They never use rivers for defecation or washing clothes, and community forests near rivers are not cut. Each tribe also has specific ways of processing meat. These practises guide the hunting rituals that they engage in. It is all very systematically done, and they know how to manage their resources. They never think of mindless consumption. We have also managed to convince many communities here to give up hunting for conservation, and they have willingly come forward to instate hunting bans in their jurisdictions.
THT Team:FES has worked on assisting communities to better manage community forests and lands as Community Conserved Areas (CCAs). What does this entail? How receptive are communities to this initiative?
Tapas: Nature has an important place in Nagaland's culture, and the community owned forests here are already very rich in species diversity. So, when we started work here our principle was to try to understand the values they associate with their natural ecosystems, and to help them conserve community lands accordingly. And we wanted to make this initiative sustainable.
Hunting and logging activities also take place here in some regions. Our suggestion to these groups was that if they can conduct these activities in their privately owned land, perhaps the community forests can be spared. We then started with conducting facilitation meetings in the region, and got the sense that people already felt these community areas were important for them. We also found that they were sensitive about disappearing biodiversity and wanted to work for conservation.
Thus, we would try to help them flesh out their ideas, tell them about the ecosystem services provided by these forests and eventually many villages voted in favour of not disturbing these commons areas; this is how we have tried to implement the CCA concept here. We encourage them to have a system to harvest, and most importantly, we motivate communities to be confident in their local knowledge and do good work and popularise it. People have an association and relationship with these community-use areas so we encourage them to take ownership of the land instead of leaving conservation to the government alone.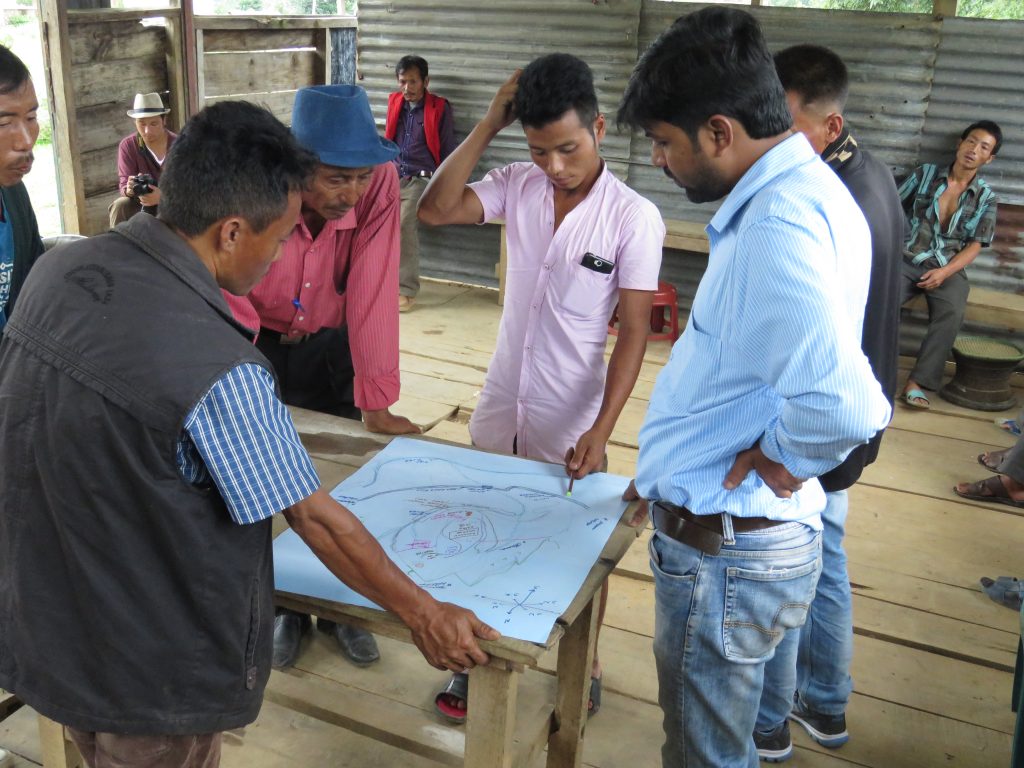 CCA management Plan preparation Khuvokhu Village Zunheboto district of Nagaland
When we started working here, we began with two villages who started off with agreeing that about 10km of community owned land on both sides of the Dikhu river would be conserved – which meant no jhum cultivation, fishing, or medicinal plant collection would happen in this region. These two villages motivated 14 more villages, and today we have covered 48 villages in a similar manner.
THT team: The CCA project focussed on species like the Blyth's tragopan, Chinese pangolin, Western hoolock gibbon and Indian hornbill. Why did you select these particular species for your project?
Tapas: We don't have any specific focus on particular species, but our effort was to learn about the biodiversity that is important to the communities and build on those to take the conversation forward. For instance, we knew that Hoolock gibbon isn't found in any other location except in the North-east and the people have a liking and cultural connect with the species. The Chinese pangolin is very threatened and is in huge demand for hunting. The Blyth's tragopan is the state bird of Nagaland, and we felt there would be a willingness to work for conserving it. The Indian hornbill doesn't have that level of protection, but in Nagaland's culture the hornbill holds a lot of importance. Thus, when we initially approached villagers about community based conservation, we start the conversations with these species and then discussed what they are interested in.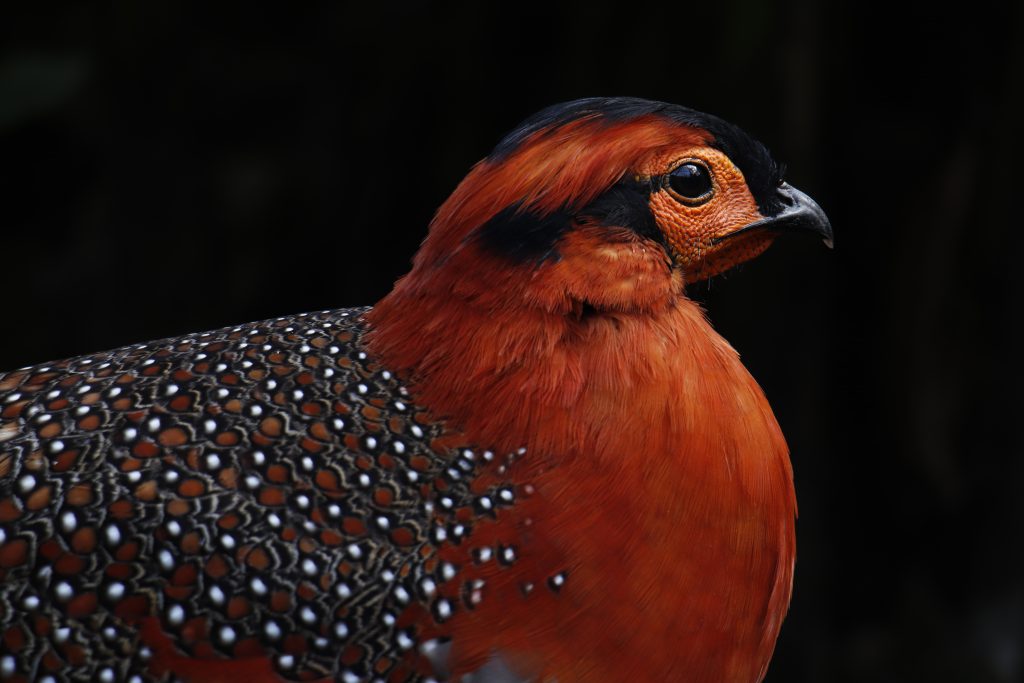 Blyth's tragopan, the state bird of Nagaland
We would also ask them for information on the species they used to see in the past but are not as visible now, and let them decide which species they choose to conserve, or not hunt, or perhaps limit hunting only to a few months. It was their decision. I would suggest conservation NGOs support locals in building their knowledge systems and help them work through their own ideas of conservation. They can then promote these unique local knowledge systems to other communities too.
I'm happy to share that since the start of the project, not just villagers but the Forest Department, and even church leaders, business people, and other stakeholders have shown support for this idea. We just try to create a platform for these multi-stakeholder conservations, and have representation from all stakeholder groups. We simply ask them to share their insights and start them thinking about conservation.
THT team: Can you share a memorable experience/sightings from the field?
In the Satoi area where Tsuruhu village is situated, when we did our first survey for hoolock gibbons, we were told that there are no gibbons there. We knew there are no monkeys in Nagaland so a hoolock gibbon was a long shot. We walked into the forest in a village called Khuvuku, and the council chairman was showing us through the mountain nearby and how they envision the community land there.
My colleague and I were just talking and joking around about something, when suddenly we heard a resounding call of the hoolock gibbon echoing through the forest. I thought the locals might be playing a prank, but we heard carefully and we heard the gibbon. They call it kala bandar (black monkey) and they indicated that it might be one. We didn't end up seeing it, but I am hopeful that one day we can sight the animal too!