On a chilly winter morning in Palia, Lakhimpur Kheri, some 13 Kms from Dudhwa Tiger Reserve, me and Anup were supposed to go birding. The morning started on a sad note as Anup heard that his uncle has passed away. After some conversation with the family, he chose to just go ahead with the plan. Perhaps to get fresh air, perhaps to distract, whatever be Anup was ready to leave. On a bike borrowed from the hotel staff, we started heading towards a place where my friend Sankarshan had seen a Northern Lapwing at the bank of river Sarda.
The route was a long one, some 15 kms away, at a section even passing through some reserve forest which we thought would be good for birding too. The outside was very chilly and north Indian countryside is known for the fog and frozen hands while driving. We stopped once or twice to warm up, saw a pair of Indian Nuthatches, saw a buzzard which later turned out to be Himalayan Buzzard. Before we reached the reserve forest as the Google Map showed, we had to take a few sharp turns, we didn't realise the road which we though would be good for bike was barely a trail about a metre wide running through the forest.
We continued on the path passing though this disturbed forest fragment. We saw a Green-billed Malkoha on the way and hoped we do not encounter some random animal on that trail. As we were about to exit the patch, we saw the trail broaden and a guy on cycle riding towards us. We ask him, if the road will take us to the river, he said yes. We enter a village, barbed wires around the sugarcane fields, some were being harvested while others stood tall. The path was now muddy with many ditches. Carefully we navigated through the path, crossed some buffalos and spent about 10 minutes in trying to identify and photograph a pair of pipits. Still those are recorded as pipit sp. on my eBird checklist.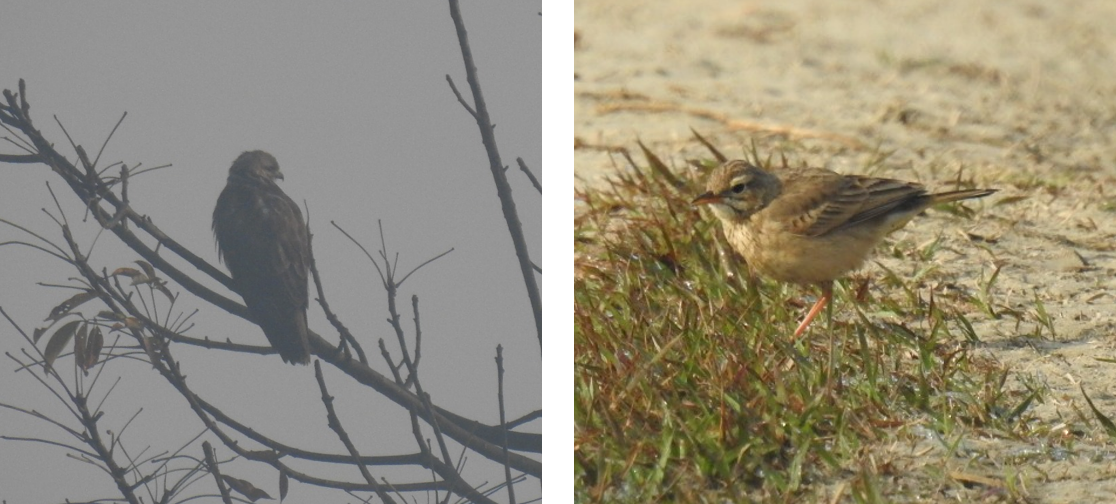 Figure 1: Birds seen on the way; Himalayan Buzzard (left) and a Pipit species (right) (Paddyfield Pipit most likely). Photos by: Anup Prakash Bokkasa
As we moved closer to the river bank, we saw the habitat changing to grassier and scrubbier. Finally, the path dissolved into multiple small trails. Some 300 metres into this habitat we finally reach the river bank. Sand and silt beneath our feet, some casuarina like saplings dominated this patch. I remembered a young silk cotton tree as my land mark for our way back. Here in front of us was the wide Sarda with little to no water and on the other bank was Kishanpur Wildlife Sanctuary.
I started scanning for birds while Anup spoke to his family and friends as he was still puzzled if he should return home. As anyone would be on such sad occasions, Anup was also disturbed but attempted to decide and if not, distract himself. We moved ahead and found a shallow water stretch were lot of waterbirds were feeding. Saw a couple of Small Pratincoles fly past us and a Wild Boar running across the river. No Northern Lapwing for us there, but lots of White, Yellow and Citrine Wagtails.


Figure 2: Few waders in shallow waters (left) and a Small Pratincole (Right). Photos by: Anup Prakash Bokkasa
As we turned around from the riverside, we saw something which all trackers keep a keen eye on in all forests, a fresh pugmark. Not a small one, it was indeed a Tiger's pugmark, maybe the previous night or a few hours old, crisp on the sandy soil. Here some 300-400 m from the village in this scrubby habitat with plenty to hide, was a tiger moving. We followed tracks and we saw pugmarks of a smaller cat, overlapping the tiger's pugmark. We wondered if it was its cub. What confused us was that they were moving in opposite direction, so we couldn't decide if it was a tiger cub, a Fishing Cat or something else. When the forward tracks disappeared in grass we back tracked and found the exact spot from where the tiger had climbed this river bank, with big depressions in sand made from its weight. The tiger had probably crossed the river and came from Kishanpur side.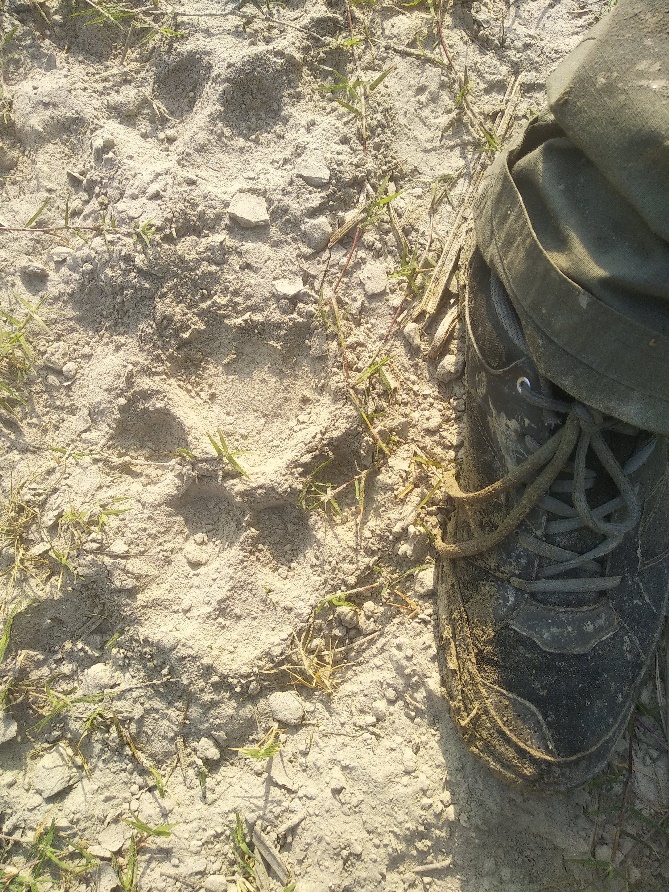 Figure 3: Tiger pugmark on the riverbank. Photo by: Kaushik Sarkar
The knowledge of a tiger to be around was thrilling. Anup had already started telling me what to do if we suddenly spot it or it spots us. Just like the pugmarks, we traced our feet back to our bike and started our journey back. Thrilled from the experience, we were discussing that this scrub and sugarcane perhaps works perfect for the tigers, hence it was comfortable for it to move so close to the villages.
On that same muddy track, we were balancing our bike as a bullock cart came from the other side. The path was small, both parties couldn't move past each other comfortably. So, I decided to get down, as Anup walked the bike ahead. In an attempt to provide space for movement, I leaned on the fence…and I screamed! The barb wire I was leaning on was not an ordinary barb wire, it was an electric fence too and I had been electrocuted! With pain I rocked forward in an instant, and the pain was running down my nerves I believe, my back and back of knees were hurting. While I was in agony, in that very moment of moving ahead in reaction of the shock, I spotted something. On the other side of that path on a small tree was a bird with jet black back and tail, almost the size of a robin, but its posture, tail and monotone on back looked weird and immediately from pain my mind went, is it what I'm thinking? I hear Anup asking "are you okay?" and I reply "is that a Jerdon's Bushchat". I pick up my binoculars quickly to have a good look, but the damn bird, never showed its face and in a few seconds, it flew away as well. The whole episode of me getting electrocuted and me asking Anup for the Jerdon's Bushchat happened within 5-6 seconds. The lady on the bullock cart was laughing, looking at me and we had possibly missed the Jerdon's Bushchat. After a minute or two, we chose an alternate route and went back to our hotel and slept off the rest of the noon.
Additional information in boxes
Box 1: Tigers in agricultural fields is a big debate in the terai regions of India. Tigers are even known to breed in the sugarcane fields. Issue is it brings them uncomfortably close to humans and have often caused life losses on either side.
Box 2: Electrical fencing is one of the most used technique used by farmers to keep away animals from their agricultural field. Generally known as 'solar fences' they are supposed to just give a mild shock, good enough to keep animals away. Unfortunately, high maintenance and investment makes these fences difficult to opt by the farmers. The ill maintenance, like use of general barb wire, connection to main power line and unchecked active time, often pose risks to human and animal lives.
Box 3: Jerdon's Bushchat is one of the rarest birds in India. It is only found in Dudhwa-Pilibhit Terai region of UP apart from North-east India.