Photo by: Parag Deka
Dr. Parag Deka is the Programme Manager of Threatened Species Recovery Programme at Aaranyak.
Finding Dr. Parag Deka for a conversation, on a busy Monday afternoon is quite a task, but we managed to catch him on the phone from his room near Assam's Nameri National Park. Parag, a conservationist based in Guwahati, works with the NGO, Aaranyak on conserving the world's smallest and rarest wild pig – the pygmy hog. The smallest member of the pig family, the pygmy hog is a critically endangered species. While it was historically found along the southern Himalayan foothills, it was speculated as extinct in the 1960's. Almost ten years later, a small population was rediscovered in the Assam's Barnadi Wildlife Sanctuary. Unfortunately, today, fewer than 300 pygmy hogs survive in the wild, with their only viable population found at the Manas National Park in Assam. In 1995, the Reserve suffered through a tumultuous decline of its mammal population, and to save the pig from absolute extinction the Pygmy Hog Conservation Programme (PHCP) was launched the same year.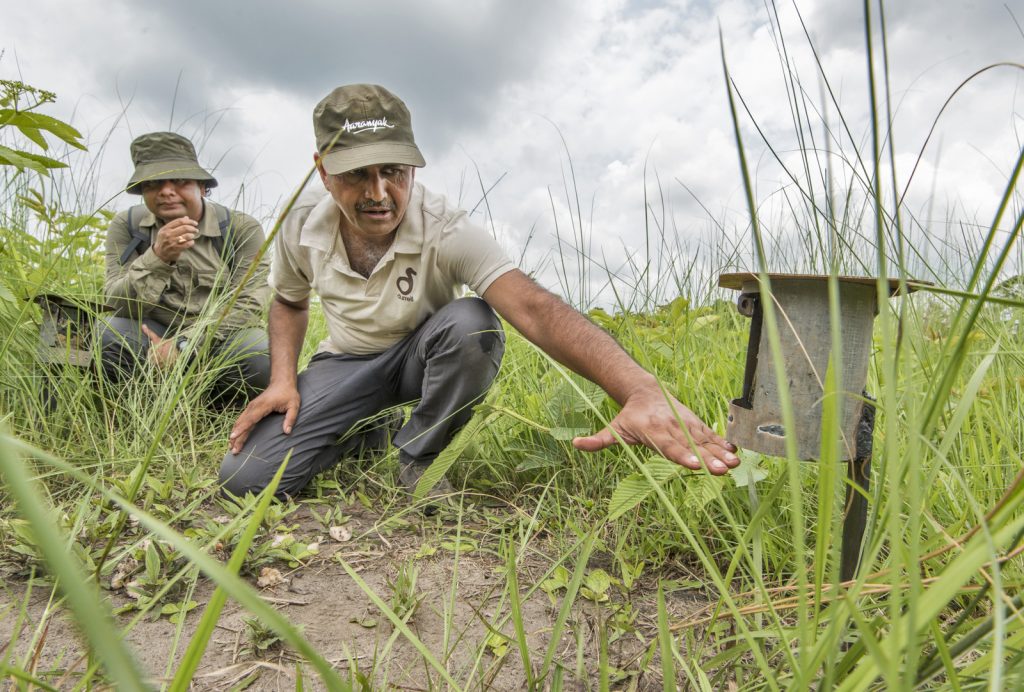 Photo by: Udayan Borthakur
The PHCP is a long-term collaborative partnership project of Durrell Wildlife Conservation Trust, IUCN Wild Pig Specialist Group, Forest Department (Govt. of Assam) and the Ministry of Environment, Forest & Climate Change, with Eco Systems-India and Aaranyak as local partners. PHCP works with Protected Area administrators to develop and implement measures that have significantly improved the management of grasslands for hogs and other threatened wildlife in the region.
Aaranyak's partnership with the programme started in 2018, and thus began their Threatened Species Recovery Programme.
The Habitats Trust (THT) team: What are some of the primary threats faced by the pygmy hog today?
Parag Deka: The primary threats to the pygmy hog and its native grasslands in the sub-Himalayan region of Assam are the loss and degradation of habitat due to human settlements, agricultural encroachments and the improper management of grassland habitat.
It started during the British era, when the human population moved to fertile land, post-independence, they started settling in the grassland areas, where they also reared their cattle. Several grasslands were converted to tea gardens, so the habitat was constantly being modified. The collection of herbs also increased, further disturbing the habitat.
Secondly, external pressures modify the region's ecology and inevitably introduce invasive species. The green area you see here is invasive, and does not support native wildlife; I call this a 'green desert'. Wildlife cannot forage on it – not rhinos, elephants, or any other herbivores. Unfortunately, it seems that pygmy hog populations may disappear from this degraded habitat first, and other species are likely to follow the trend.
THT team: Can you share some instances where education and awareness along with habitat restoration activities have worked successfully with local communities? How have you further involved local communities in your projects?
Parag: I find that communities in and around the grasslands are the ones who use minimum resources from the forest. They live in simple homes and are close to nature. Young people dress in yellow, white, black clothing with red dots – they copy everything from nature.
But unfortunately, people here don't seem to know much about the pygmy hog. Their forefathers knew about the existence of the pygmy hog but younger ones seem to be unaware. Even the new Forest Guards working in Manas don't know about pygmy hogs. It's not their fault, but they seem to be quite disconnected.
We plan to reconnect the village people with their natural environment. One of our students from New castle University plans to visit villages in Manas to under stand how young people, mostly children connect with nature. Together we will design a programme to restore the bond between people and nature. Under the programme we will work with 16 schools, across eight villages in Manas. Eventually, we hope to find out how much do they really know about the grasslands, and associated species like the pygmy hog, the Bengal florican.
THT team: What is the difference between an Eco Development Committee (EDC) and a Joint Forest Management Committee (JFMC),and what role do each of them play in Assam? How does it affect the ongoing program?
Parag: JFMCs usually work around the Reserve Forests, where asan EDC works in a National Park. The JFMC has very elaborately detailed rules and regulations, whereas EDCs follow JFMC regulations. We are currently working with an active community that have a relationship with the Park, but they also extract resources from the Park. Thus, we run a community volunteering programme, through which we look at what resources people are extracting, who is extracting these resources, and whether their dependency is crucial. It is important to analyse these aspect now and address these issues, to try and minimise the pressure put on grasslands by local communities. If we do this, the grasslands can sustain the pygmy hog and Bengal florican population far more easily.
THT team: The African Swine Fever is said to be spreading rather quickly across Assam. Can you talk about the origin of the virus and the measures being taken by PHCP and Aaranyak to prevent its transmission to pygmy hog populations, both in the captive breeding facilities and in the wild?
Parag: African Swine Fever (ASF) is a highly contagious haemorrhagic viral disease of domestic and wild pigs which severely threatens the safety of our captive population. It is spread through direct contact with infected domestic or wild pigs, indirect contact through ingestion of contaminated material (e.g. food waste, feed or garbage), contaminated objects, or biological vectors.
In April 2020, the very first cases of ASF were recorded in India, in the far North eastern states of Assam and Arunachal Pradesh, likely having been transmitted via China and the Tibet region. Since ASF is spreading very quickly across Assam, the risk of our pygmy hog population being exposed is very high unless urgent preventative measures are taken.
As an immediate response, we have divided our centres into three different zones; a sanitisation zone, a controlled zone and a restricted zone. Staff staying inside the centre are required to shower and change their clothes to move between the zones. Staff coming from outside are required to observe the same measures but are not allowed to enter the restricted zone. All animal feed is dropped in the sanitisation zone and cleaned before being taken into storage. All bedding materials are also cleaned, treated and dried in the sanitisation zone before being taken into the controlled zone.
The shower and food/bedding decontamination facilities need to be made permanent. In Basistha Centre, the pygmy hogs are housed in three separate enclosures and in Potasali the hogs are housed in two separate facilities. Separate equipment is needed for maintenance and cleaning so there can be no cross-contamination. We also need to install an additional water supply and purchase pressure washers to make cleaning as effective as possible.
We have received generous support from The Habitats Trust to make these necessary bio security measures at the two centres.
THT team: We would love for you to share your most memorable experience so far while working with the Pygmy Hog Conservation Programme?
Photo By: Parag Deka
Parag: In 2017, I was looking for the pygmy hog in Orang National Park, where they had previously been reintroduced, but we could not track them because there was no adequate equipment to do so back then. So, we decided to look for them through camera traps instead. A lot of people criticized the idea; pygmy hogs are barely 10 inches tall and are not visible in grasslands, people equated the effort to finding a needle in a haystack. But we wanted to give it a try regardless. And finally, while going through the first 2,000 images, I found what I was looking for – two baby pygmy hogs with their mother! This was back in 2017, and by far the most memorable experience I have ever had working here. I finally realized, all you need in life is a purpose and my purpose was successful!